To undertake the CRC Duty of Care Online Training you need to be able to log in to your individual page in the CRC's Safety Management Online website.
Logging in
Enter your email address
Enter your password
If you are unable to access the site using the above steps, then the administrator can perform a password re-set, which will generate an email to your email address with an automatically generated password to allow you to enter the site and then change the password to one you can remember. You can contact the administrator via email.
How to complete training
Once you are into the site you need to click on the TRAINING tab on the left hand side of the page.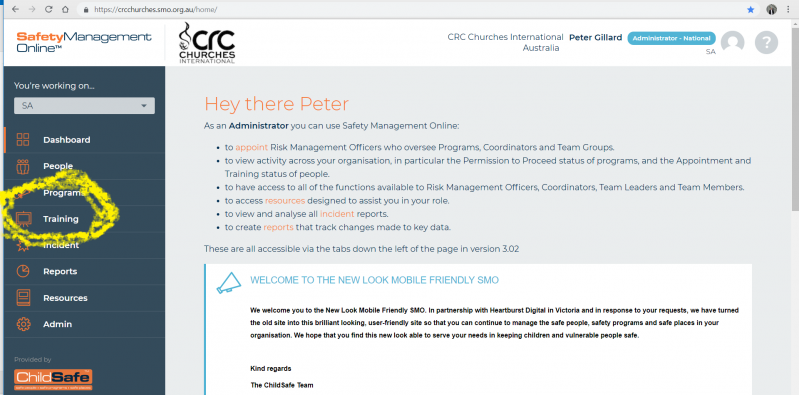 This will open up the FIVE modules that all need to be completed in order to be compliant with CRC Duty of Care requirements.
To start a module, click on the name which will open that module.
Once you have completed all five modules, email the CRC National Office so that they can update your compliance status.
Please note
You will receive a certificate at the conclusion of each module. This does not mean you have finished all the training, but just that particular module. ALL FIVE MODULES need to be completed to finish the training process.
During the training process reference will be made to some resources. The inference is that these resources are necessary to completing the modules. Note that, while it may be handy for a church to have these resources in their library, all the information needed to complete the training modules are provided in the modules themselves, so buying the resources is not necessary.
If you don't achieve a pass mark for each training module, then the module will show as FAIL. The administrator will need to reset the module to allow you to redo. Contact the administrator if this occurs, and a reset will happen at the earliest possible time.